Dubai-based, DSA Architects International, is getting behind the amateur and professional game in the emirate in a big way, as well as playing a key role in raising funds and awareness to help the fight back against one the world's deadliest diseases, by supporting two significant upcoming events at Emirates Golf Club in September in the shape of the DSA Open and the Road to Mongomo Qualier hosted by DSA.
First up is the DSA Open on the stunning Majlis course, home of the famous Omega Dubai Desert Classic, on Thursday, September 14th. The hotly anticipated amateur tournament is the penultimate event in the hugely popular 2017 Swing Against Cancer Golf Series and it promises to be one of the biggest yet with interest already reaching fever pitch among the local amateur golf circuit.
The Swing Against Cancer Golf Series, which, is open to amateurs and professionals, and is being run by Worldwide Golf in partnership with Sixteen10, has gained significant momentum since launching at Sharjah Golf & Club with the Worldwide Golf Open in April.
Since then there have been events at Abu Dhabi Golf Club, The Els Club and Dubai Creek Golf & Yacht Club with the region's corporate and golfing communities coming together in increasing numbers to raise funds and awareness for local cancer charity, Friends of Cancer Patients while having a unique day and event of golf and laughter at some of the region's finest clubs.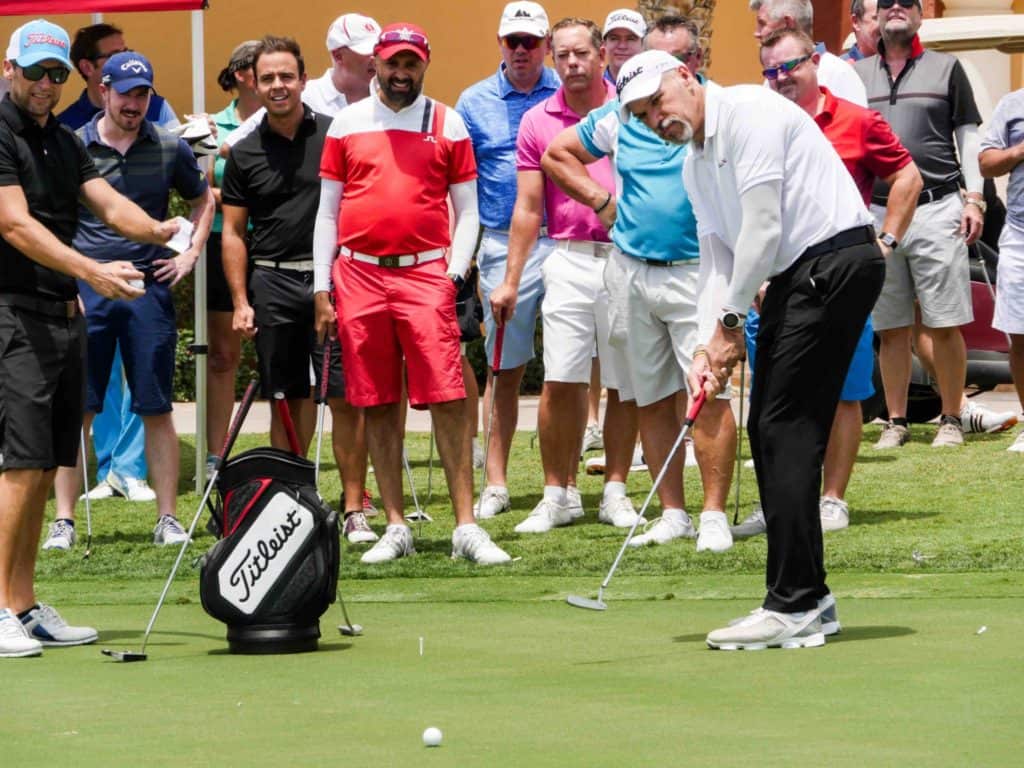 As well as some outstanding on course side contests with fabulous prizes and activations from golf's elite brands such as Titleist and Ping, each of the qualifiers sees one pro and one amateur win through to the Swing Against Cancer Golf Series Grand Final, the star-studded Mike Clark Golf Day taking place on the Fire Course at Jumeirah Golf Estates on October 26th.
There they will get the chance to tee it up alongside some top-notch sporting icons such as former England rugby captain Mike Tindall as they compete for 'pinch me for I must be dreaming' prize that would give any golf lover palpitations.
The winner of the 2017 Swing Against Cancer Golf Series will get to tee it up alongside the likes of Rory McIlroy, Henrik Stenson and Matt Fitzpatrick in the Rolex Pro-Am for the DP World Tour Championship. They will also receive hospitality tickets to the tournament, an invitation to the players' beach party, a two-night stay at Atlantis, The Palm – where the Race to Dubai's top 60 players will also
be staying – and a golf lesson with renowned coach to the stars, Pete Cowen – the technician behind the swings of multiple Major winners!
The pros, meanwhile, will play for an
AED 5,000 cash prize plus a 5-star golf holiday worth AED 10,000.
Having supported last year's Mike Clark Golf Day, which featured former England football aces Teddy Sheringham and Trevor Stevens, as well as Tindall, by buying a table for the company at the Gala Dinner as well taking
part in the golfing action, DSA have taken it a step further this year by coming on board as Platinum Sponsors of the Swing Against Cancer Golf Series and hosting their own event, the upcoming DSA Open, which will feature none other than former Liverpool and Leeds United football legend Gary McAllister.
Managing Director Steve Kelshaw:
"Dubai has been our home for 30 years
now so we feel part of the DNA within the community and have supported this event from its conception. Being able to give back to those in need through this great initiative is something that all of us at DSA believe in. Gary McAllister is an old friend of mine who I met through golf and who tragically lost his first wife to cancer. So this event is for a cause close to his heart and we're delighted that he's supporting it."
HANDS ON
DSA have proven to be just about as 'hands on' as you could hope for a title sponsor of a golf event to be. The company's directors have pooled their efforts in reaching out to their considerable network of business contacts in the emirate to invite and encourage them to get behind the event. The result is a raft of additional sponsors for the DSA Open including EW Cox, Prosperity, WME Consultants, Al Futtaim Automall, Hertz, Afridi & Angel, Clarke Samadhin, Al Tayer Stocks, WATG, Nikki Beach Resort, Trump International Golf Club Dubai and Fairmont, The Palm.
"DSA is a one-stop-shop," said Kelshaw.
"In other words, we provide complete design solutions for our clients. This therefore requires us to work with and beside amazing professionals that we will either sub-contract or be recommended by.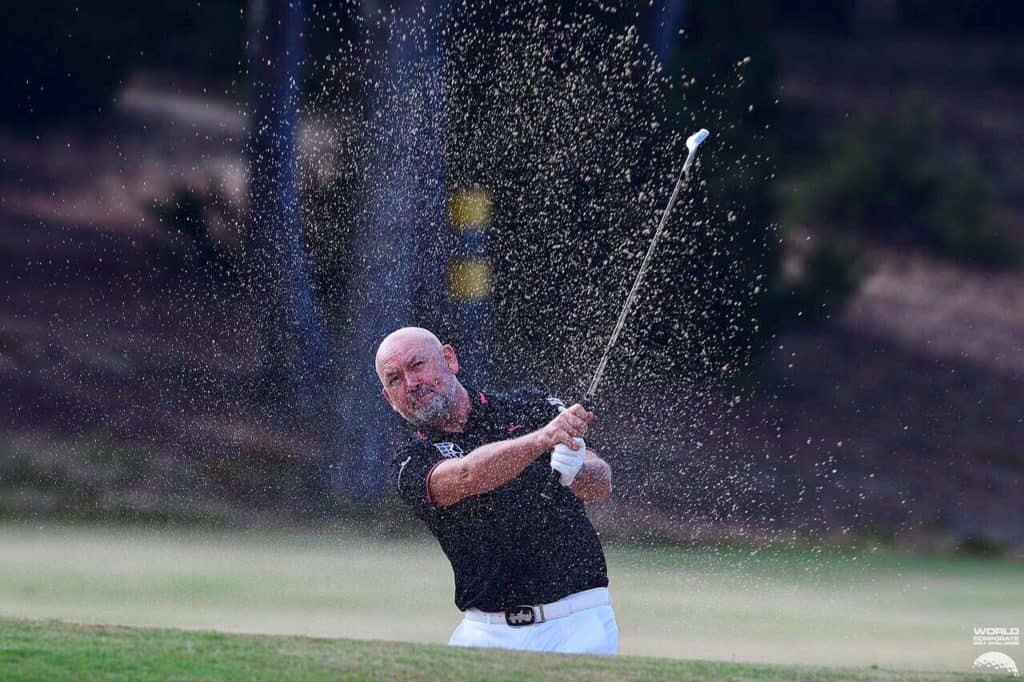 "It is this team spirit of delivering architectural projects with like-minded people that results in all our success.
"It seemed a great opportunity therefore, that when we decided to support again this year's Swing Against Cancer Golf Series that our 'wider team' of colleagues and friends would be willing to take part too. So we reached out to them and of course they stood up to the challenge.
PLATFORM
"Having our clients at our event also gives us all a chance to connect on a different level. They say 'people do business with people' 
and sometimes we all get caught up in the business bubble, so it's good to take time out to re-connect on a different level. Our DSA Open provides that platform."
With some amazing on course prizes such as five star hotel stays at Nikki Beach Movenpick, and Fairmont, The Palm and state of the art golf equipment up for grabs in addition to the chance to qualify for the Mike Clark Golf Day and an evening of fun, food and drink following the day's play, Kelshaw believes the local golf community are in for a treat at the DSA Open while playing a vital role in supporting a worthy cause.
"Participants can expect a sensational day on a truly marvelous golf course, but moreover we will be having fun raising as much money as we can to try and play our part in eradicating this disease. It's also a wonderful feeling seeing so many people supporting on the day."
Following hot on the heels of the DSA Open, Steve and his team will be back at Emirates Golf Club on Thursday, September 21st for
an event which has got the professional golf community in the UAE extremely excited. For the second year in succession, the architectural firm will host the Road to Mongomo qualifier presented by DSA'. This event will be played on the Faldo course which is currently
in immaculate condition and it offers a sensational prizes to the top three finishers.
Those that finish in the podium places will be Equatorial Guinea in December to compete in the 3e Actuaries Open, an event featuring a US$150,000 prize fund which attracts players from the Sunshine Tour, MENA Tour, LPGA, LET and last year even featured the PGA Tour's Charlie Wi and a couple of players from European Tour. The event has such a high profile within the host country that the President and First Lady of Equatorial Guinea attended to conduct the official opening ceremony.
The Road to Mongomo qualifier presented by DSA is a unique professional event for the region, open to both MENA Tour players and local club pros, male and female.
"We sponsored the first event at Al Badia last year without really knowing what to expect," said Kelshaw. "But it was an absolutely fantastic event. The quality of the field is very high with lots of the Mena Tour players taking part, but it's the fact the local club pros are involved which makes it really special – these guys have the chance of a lifetime to qualify
for an event in Equatorial Guinea with a very big prize fund which attracts some top players. So there's a very real opportunity for one of our local players to go to Africa and make a name for themselves. It really could be life changing and that's what makes this event so exciting."
Kelshaw, a former Al Badia member and one- handicapper, was sad to see his old club shut down earlier this year, but in Emirates Golf Club, he believes the event has found a more than worthy home.
"It has a great history within the Emirate being the first grass course in the area, a symbol of success and one that we can relate to at DSA," he said before revealing why golf makes such an ideal sport for DSA to get involved with."
"Golf is a great platform to bring people together for whatever reason," he said. "You get the chance to connect on the same level. These golf events also enhance that model of working with like-minded people…. golfers generally work hard and play hard."
For more information or to register your interest in competing in the DSA Open on September 14th or the Road to Mongomo Qualifier presented by DSA (professionals only) please email: info@worldwidegolfme.com with the relevant event in the subject bar.