Youngsters in the United Arab Emirates are being given the opportunity to get to grips with playing college golf in the United States of America thanks to #Collegegolfdubai – an exciting initiative making its way to the Claude Harmon III Performance Golf Academy Dubai. 
In collaboration with Fore College Golf, the programme is designed to grant access to the most up to date and relevant information in college golf recruiting and provide students with the essential tools to build a profile and strong application in order to give them the best possible chance of getting a golf scholarship in the States.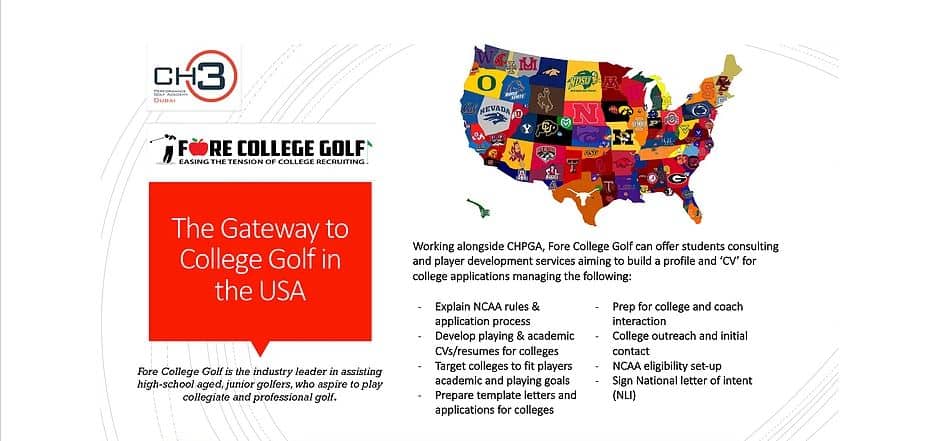 #Collegegolfdubai will be split over three days with the first day dedicated to players showcasing their ability at the College Golf Combine. The day begins with an introduction to the players and coaches who will give a brief on what to expect with college golf. Following on from this, Fitness Professional Allister Parlane will lead a workout warmup before Combine Assessment testing, which will include Trackman combine, a short game scoring test and Tour Putting Performance testing. After lunch, the players will head out for a 9 hole team match play (college format) before ending the day with a Q&A and de-brief from the coaches. Day two will be focussed on providing families with more information on college golf at the parents-and-player evening while day three is targeted at Coaches' CPD education.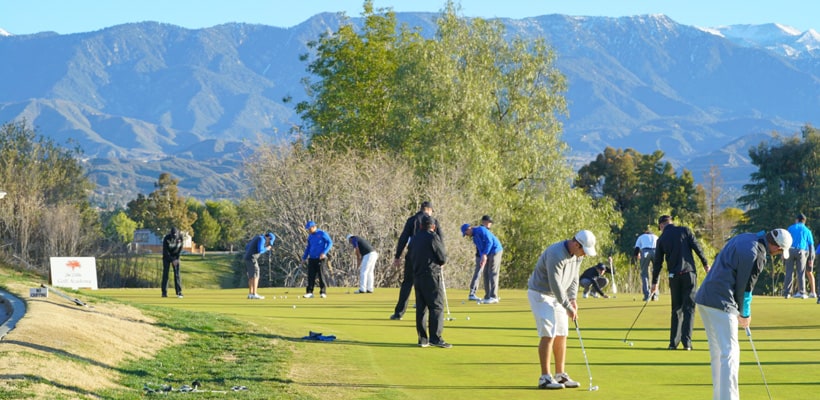 "#Collegegolfdubai will be something completely unique to the region and aims to educate juniors on not only how to get college golf scholarships in the United States, but also how they can find colleges that are most suitable for each person's individual needs," said Jamie McConnell, Director of Instruction at Claude Harmon Performance Golf Academy.
"The #Collegegolfdubai week will provide juniors, parents and coaches alike with a great opportunity to find out more on the recruiting process and also provide an introduction into the life they may lead should they choose to go towards an American University Scholarship.
"I have known Mike from Fore College Golf for almost 5 years and he has been a huge help with some of our juniors who are currently going through the recruiting process. Mike takes them from start to finish and helps them work through the various decisions they will need to make along the way. With all the rules associated with the NCAA its difficult for us in this part of the world to provide the right advice on college recruiting, this is why Mike has been such a huge help to the team at CHPGA."
PARENTS:
We ( @ch3pgadubai ) are delighted to announce that this April we will be hosting #collegegolfdubai , the first event of its kind in the UAE solely based around parents, children and coaches understanding the American Scholarship system. Visit:https://t.co/hcyDrqUcq9 pic.twitter.com/pspvtM4rmZ

— The Els Club Dubai (@theelsclubdubai) February 25, 2019
If you are interested in this exciting introduction to college golf please email mike@ch3perfomancegolf.com to book your space.
College Golf Combine – 1250AED per player
Parent and Player evening – 250AED per family
Coaches CPD education – 200AED