European legends, female stars and the next generation of golfers will all gather at Ayla Golf Club, a premier golf destination in Jordan, in 2019 for a ground breaking new tournament: the Jordan Mixed Masters, presented by Ayla.
In a first-of-its-kind event, the European Challenge Tour, Ladies European Tour and Staysure Tour will co-sanction the new individual strokeplay event, to take place from April 4-6, 2019.
The field will consist of 123 players – 40 from each Tour and one leading amateur from the men's, ladies' and over-50s' games – who will compete against each other in a single, mixed field.
Members from the three Tours will tee off from different yardages, but will compete in a single competition. The three-day event will see the field cut to 60 for the final day's play, competing for the grand prize. The leading players from the other two tours will also receive a special accolade.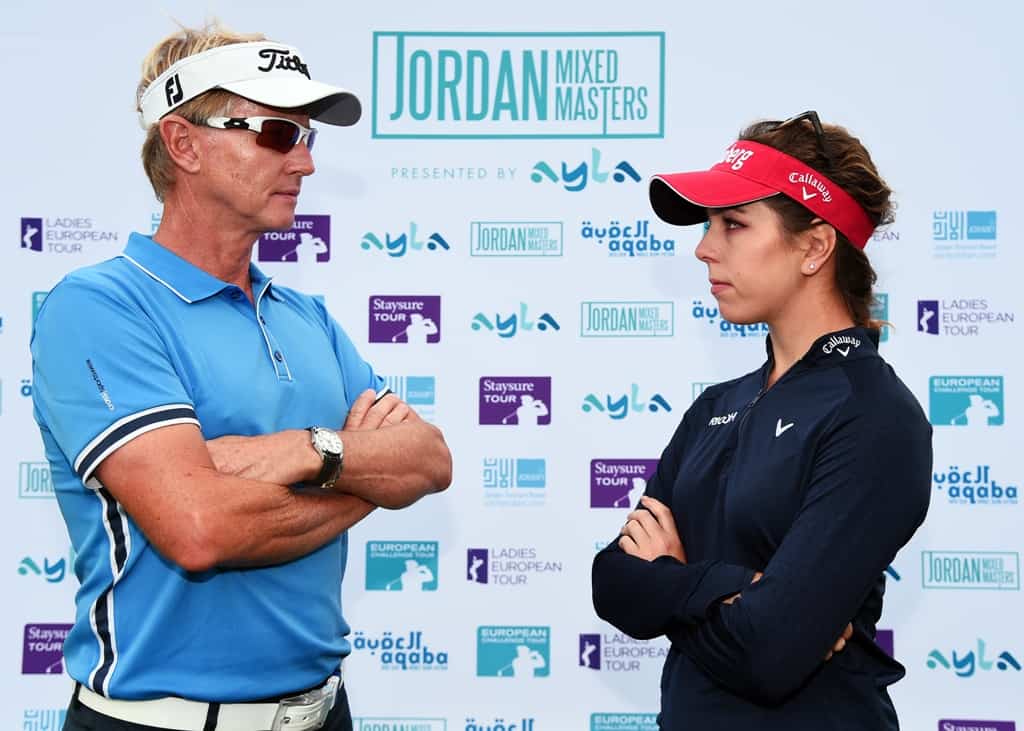 The concept, which recognises the importance of equality and equal opportunity, was the vision of Ayla's ownership, who have created a premier golf and leisure development close to the Red Sea City of Aqaba and on the shores of Jordan's southern coastline.
Keith Pelley, Chief Executive of the European Tour, said: "The Jordan Mixed Masters, presented by Ayla is a fantastic development for the Staysure Tour, the Challenge Tour and the Ladies European Tour.
"This unique event goes a step further, bringing together the stars of three Tours for a truly innovative tournament. There seems to be an appetite in golf for mixed events right now, and this is another opportunity to deliver another entertaining yet credible format."
"The European Tour is leading the transformation of global golf and I commend Ayla's vision and their determination to spearhead the concept of hosting the three Tours."
The #JordanMixedMasters staged at Ayla Golf Club ⛳️🇯🇴

4⃣0⃣ LET🏌️‍♀️
4⃣0⃣ @Challenge_Tour🏌️‍♂️
4⃣0⃣ @StaysureTour🏌️‍♂️
1⃣ Leading amateur from all 3⃣Tours
1⃣ Single competition 🏆🙌🏻 pic.twitter.com/xiMM8qQ7Qu

— Ladies European Tour (@LETgolf) June 26, 2018
Chris White, Director of Operations at Ayla, said: "We are delighted to play such a pivotal role in the development of this new event prospect, and look forward to welcoming players from the Staysure Tour, the Challenge Tour and Ladies European Tour to Ayla Golf Club in 2019.
"Golf is one of the only sports whereby competitors, regardless of age or gender, can compete fairly together. To see our vision come to life and have the support and collaboration of all three Tours gives us great confidence that our event will be recognised as unique in the world of golf and showcase not only the beauty of Ayla, but the great nation of Jordan."
Alain de Soultrait, Director, European Challenge Tour, said: "The introduction of a tournament involving the Challenge Tour, Staysure Tour and the Ladies European Tour is a landmark moment for all three tours, and playing all together will be great.
"The Challenge Tour is also known for growing the game of golf across the globe, and by visiting Jordan for the first time we will continue this tradition."