Few professions in life involve as much travel as that of a tour golfer. Week in, week out the European Challenge Tour stars jet from one country to the next for different events in a bid to seal one of 15 coveted European Tour cards in the season-long Road to Ras Al Khaimah. From their extensive travel, the players have a multitude of reference points when it comes to judging the merits of a destination that the European Challenge Tour visits and Ras Al Khaimah has been given a big thumbs up from this year's Challenge Tour stars.
There is a strong chance that tourism will rise in the northern emirate due to the many plaudits about the country and its people that have been expressed by the top 45 golfers on the European Challenge Tour's Road to Ras Al Khaimah.
"It's a great place with amazing weather and the golf course is stunning," said Sweden's Sebastian Soderberg who is on the hunt to be named Challenge Tour No.1 this week.
"There's a load of cool stuff to do in the area, since we've been here I've ridden a camel in the desert and gone on a Dune Jeep Safari which was so much fun. It was a perfect day for me."
Max Orrin, who came into the season-ending event in 16th place in the Rankings, has visited Ras Al Khaimah three times and lauded the emirate as a perfect tourist destination.
"I'd definitely recommend people to visit Ras Al Khaimah, there's so much to do here," said the Englishman.  "It's probably like Dubai was around 20 years ago and is on its way up. The hotels and beaches are really nice and you've obviously got the beautiful weather.
"Al Hamra Golf Club is a really good track and I'm really enjoying the coastal vibe with so much water around it. It's harder this year as they've bought some rough in which has made it more difficult off the tee but the course is lovely."
Antoine Rozner, who is in his first full season on the European Challenge Tour, praised the stunning Peter Harradine-designed Al Hamra Golf Club during his first visit to the northern emirate.
"This is my first time in Ras Al Khaimah and I'm really impressed with the place," said Rozner who put on a golfing clinic to local schools after the first round of the tournament. "Al Hamra Golf Club is really nice; it's a good course with a great design and has been kept in really good shape. You need to hit it long and straight as it's a long course but it's really special."
Aside from the impressive golf course, Ras Al Khaimah's stunning beaches, picturesque mountains and many adventurous tourist attractions have impressed the players this week including the stunning Al Wadi Nature Reserve, which spans 1,235 acres within Wadi Khadeja and is famed for its natural beauty and wildlife.
"I am staying in downtown Ras Al Khaimah this week, which I'm really enjoying," said Finland's Kalle Samooja who won the Hainan Open last month.  "Joachim B. Hansen, Victor Perez and I went and hit a few balls at the Al Wadi Nature Reserve before the tournament got underway and it was a fantastic experience."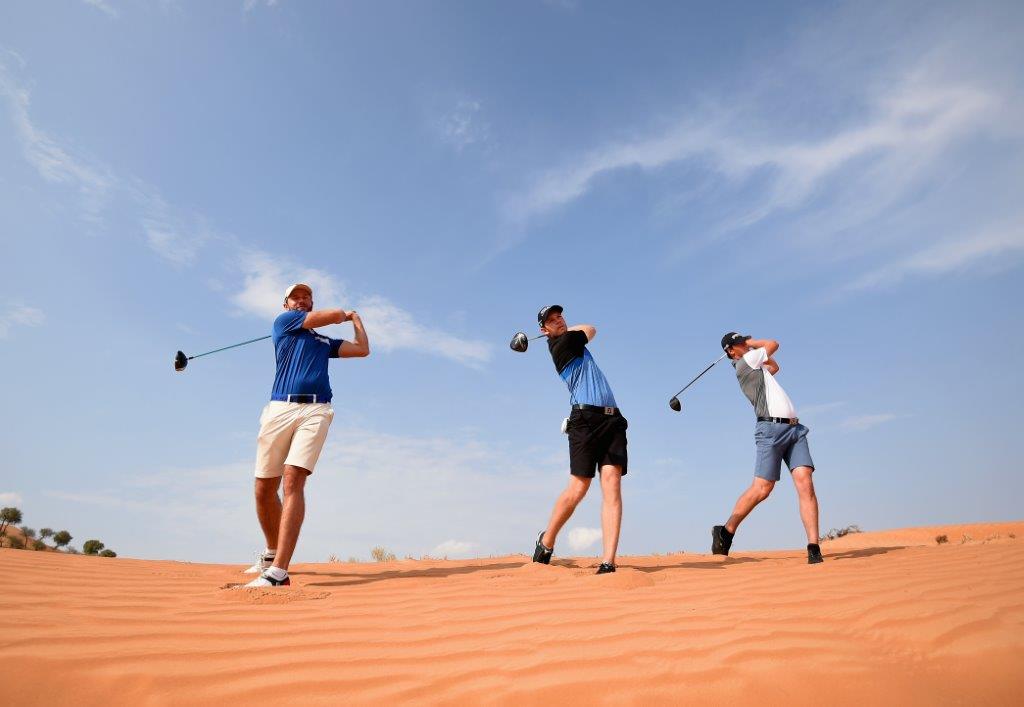 "It was a breath taking experience. It was a pleasure to be able to take some pictures and look out at the immense Al Wadi desert," added Perez.
It's still all to play for in Ras Al Khaimah Challenge Tour Grand Final at Al Hamra Golf Club with the top 45 golfers on the Road to Ras Al Khaimah all vying to finish the tournament in the top 15 of the Rankings to get their hands on one of 15 coveted European Tour cards for next season. Entry into the season-ending event is free of charge.