Chocolate, waffles and beer aren't the only things that Belgium is renowned for anymore. These days producing world class golfers is another trademark for a country that has limited heritage in the sport. Over six decades ago their greatest player, Flory Van Donck, was twice an Open Championship runner-up but then the country entered a barren period on the golfing front. However, from 2011 the 'Belgian Bomber' Nicholas Colsaerts cannoned the country back to prominence with two victories on the European Tour; but it was in 2014 when the 34-year-old really made a name for himself. Not only did he produce one of the greatest Ryder Cup debuts in history when he single-handedly beat Tiger Woods and Steve Stricker in a fourballs match with Lee Westwood at Medinah, he also made the headlines when he recorded the longest drive on the European Tour – a 447-yard monster at The Celtic Manor Resort.
Matter of timing
Since then another prodigious Belgian athlete has excelled to such an extent that he earned a wildcard pick from Darren Clarke at last year's Ryder Cup. Thomas Pieters took to the challenge like a duck to water, and boy did he not disappoint, the 25-year-old setting the European rookie record for most points and wins in a single Ryder Cup with four out of five. Now there's a new kid on the block who is also shattering records. Thomas Detry's 12-shot triumph at the Bridgestone Challenge last season was the largest margin of victory in Challenge Tour history, which helped pave the way towards him earning a European Tour card. Now the blonde, self-assured 24-year-old has bigger objectives on his mind. He sees himself being in the "top 10 in the world" in five years' time.
"I knew my game was ready and it was just a matter of circumstances and timing," says Detry. "My first Challenge Tour event was in Belgium and I finished sixth there in front of my home fans and then second the week after so that kick-started everything. Those first two weeks were key to the whole season because I got some confidence from realising I had a good chance of winning at this level. I ended up finishing 15th and getting my card which is pretty cool."
🐯 and Tom Detry on the range!! Team @excelsm #EXCELing 🇵🇸🌴 pic.twitter.com/AMQm4isFwo

— Paul McDonnell (@PaulMac69) January 31, 2017
There is huge expectation on this young man's shoulders after graduating in remarkable style in his maiden season on the Challenge Tour. He was victorious at Bridgestone and came tied-second at the Najeti Open, but the most impressive stat is that he didn't miss one cut all season. "Consistency is my biggest strength," adds the Belgian. "I hit a lot of fairways and greens in regulation and don't make many bogeys. Long may this continue."
Just over seven months ago the 6'2" talent was ranked 1,802nd in the Official World Golf Ranking and now he finds himself in the top 200. This meteoric rise wasn't anticipated to happen in such a short time. "I wasn't expecting to earn my European Tour card in my first season. We set up a plan with my coach and my team for it to take up to three years to be ready for the top grade and we ended up getting it in six months so that was amazing."
Older brother
Comparisons to his compatriot Pieters are inevitable when watching and evaluating Detry's game and assessing his potential. Not only are they both two of the brightest talents in the game, they are also best pals, with Detry referring to him as 'like an older brother'. The pair were childhood friends who played for their country as schoolboys before going on to become teammates at the University of Illinois. Now they will be going toe-to-toe on the European Tour, but it wasn't always so sophisticated for the pair. "It was only four years ago when I was with him (Pieters) in college living together and playing golf," says Detry. "We were both amateurs grinding and working hard and now he is representing Europe in the Ryder Cup! It's awesome to see him at the top of the world and it inspires me to try and do the same.
"I knew Thomas was going to be very good from a young age. He has won three times already but I wasn't expecting him to do it all so quickly. Being in the Ryder Cup after three years on Tour is phenomenal. What a special talent."
All the hype was about Pieters, and now the spotlight is on Detry on the European Tour. But it was their mentor, Colsaerts, who really got the ball rolling for the country. He played an integral role in helping the young Belgians' golfing dreams become reality. "Nicholas (Colsaerts) was such a big boost for Thomas and I," adds Detry. "His performance at Medinah in 2012 was unbelievable. We don't have a ton of players in Belgium but we have three players now on Tour and two of them have played in the Ryder Cup. That's huge for the country."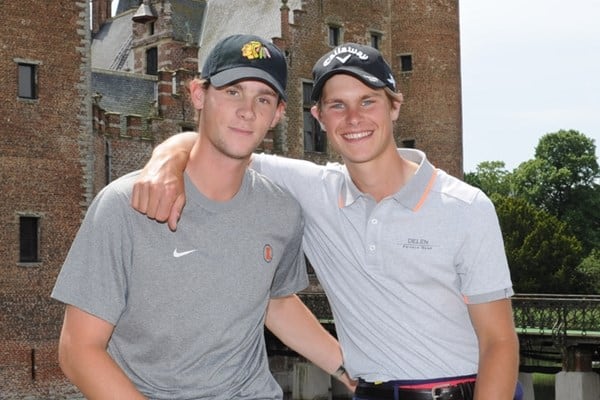 Flying start
Detry has started his maiden season on the European Tour with a bang. He came third in his first tournament, the Alfred Dunhill Championship, earning him €82,040 – only €7,120 less than he made in 14 events on the Challenge Tour last year. The result sets him up nicely for the remainder of the campaign. "It's huge getting points on the board this early. It shows me that I can do it and makes me very excited for the rest of the season," he said.
"My first objective this season is to gain experience and learn because it's still new for me. Before becoming a pro, I thought I'd be able to play 15 weeks in a row and its actually not even close to that. I can play max three or four weeks, then I have to take a week off. Then my main objective is to try and keep my card. My third target is to win an event!"
The last time Detry triumphed, he finished a staggering 29-under par in record-breaking style at Bridgestone with only a single bogey. If he can replicate this sort of magic, who knows? There's a great chance we could see him become the third Belgian to shine in a Ryder Cup. Everything is moving on an upwards trajectory for the talented youngster and it seems like anything his pal Pieters can do, he can do too. It would be wonderful to see them team up together one day. It may create added pressure for him but Detry was named the European Tour's No.1 player to watch in 2017.  It's easy to see why and if anyone can carry the weight of expectation comfortably on their shoulders, it's him.
By Scott Grayston