It's been a pretty hectic year for former Dubai resident Henrik Stenson.The Swede wrapped up his first Major at The Open at Royal Troon in stunning fashion last July at the age of 40 and has his sights set on defending his title at Royal Birkdale.
"It's been a pretty nice feeling to see the Claret Jug on my coffee table every day," said Stenson, two-times a DP World Tour Championship winner. "I don't know if it needs to be much more adventurous than that, although we did take it on a jet-ski journey last year. I haven't taken it sky diving yet. Maybe if I defend at Birkdale I might take it sky diving? That could be good, right?"
Stenson's outgoing nature and rock-solid game have endeared him to fans from all around the world and the manner of his victory in last year's Open will go down in history as one of the classic duels in golf.
Stenson and 2013 Champion Phil Mickelson exchanged birdie upon birdie before Stenson put his foot on the gas and ran out the winner by three shots on 20-under-par, the lowest winning score in Major championship history.
"I'm really looking forward to going back to Birkdale. I played there in 2008 and played well," said Stenson, who finished in a share of third, six shots behind winner Padraig Harrington that year. "It's one of my favourite Open venues. It's a straight-forward links, in that if you hit a tee shot down the fairway it is more likely to stay in the fairway."
"I hope I can give it a good shot to try and hang on to the Jug. I'm sure it's going to be a sad moment when we have to give it back.
"Being European, The Open Championship was some of the first golf events I ever watched on television when I was a young kid, just starting to play the game. With the personal history that comes with that, of course, it makes The Open maybe just a little bit closer to my heart than any of the other Majors. Having said that, all four Majors are wonderful in their own right and I hope I can give myself a chance to win a few of them."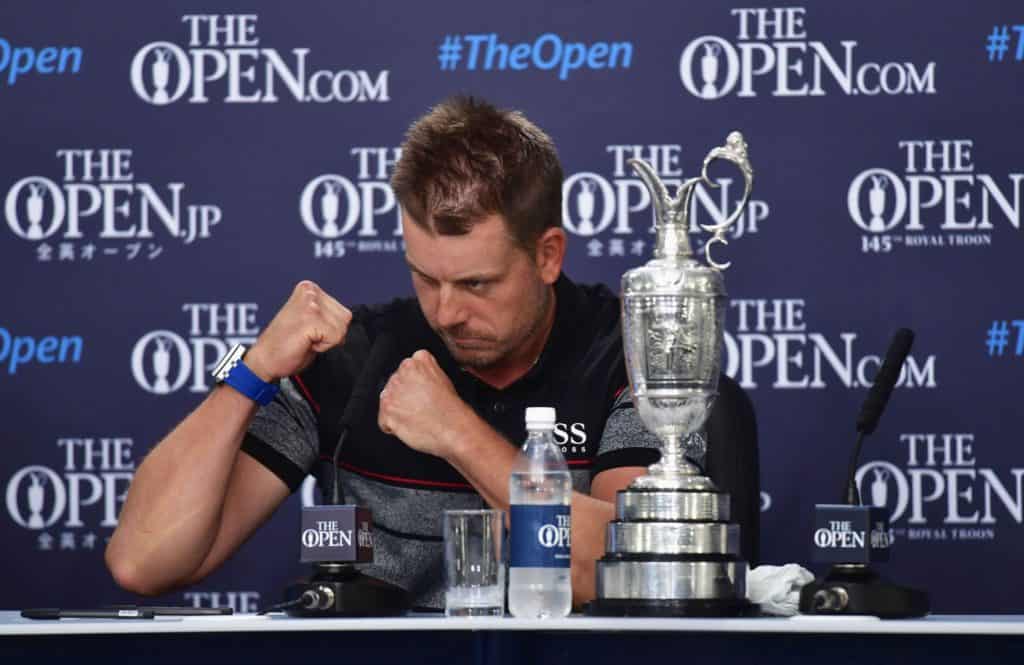 Stenson has been one of the finest players in the game since his first Race to Dubai win back in 2013 and his Major triumph validates the work he's put in with coach Pete Cowen over the years.
"Of course, it gives you a little bit of a long-term confidence boost when you achieve something like that and play as well as I did," said Stenson. But has the result changed him? "Not really. Other than being a whole lot more busy off the golf course, I'm kind of the same. Same dry sense of humor."
Speaking of being busy, how is Stenson's game feeling this year?
"I feel like I'm heading in the right direction, I put a fair amount of work in. You can always throw a couple of different thoughts on why things don't work out the way you want to – life is full of ups and downs and golf certainly is. "Moving houses, a long season, not much rest in between seasons, and trying to carry forward momentum. Eventually, I think you tend to run out of steam a little bit."
Stenson has posted some solid results so far in 2017 with a runner-up finish at the Omega Dubai Desert Classic and a third place finish at the BMW PGA Championship, but his indifferent record at Augusta continued with a missed cut in April (he has never posted a top ten in The Masters).
However, he was a happy viewer as he settled to watch the weekend action in front of the TV and was delighted with how the tournament played out for his long-time friend Sergio Garcia.
"In some ways it was a little tough because I'm sitting there watching two of my good friends battle it out," he said of the Sunday showdown between Garcia and Justin Rose.
"But, of course, I was very happy for Sergio. I went to his charity event the day after I won The Open last year. He had his foundation day in Switzerland, and I know how close he has been on a couple of occasions before – and then there I was standing with the Claret Jug and getting all the congratulations for it!"
"I gave him a little inspirational chat at that point, and he wasn't slow to mention that when I saw him in the locker room at The Players Championship this year. I was delighted for him to win The Masters."
The cream generally rises to the top at The Open and Royal Birkdale is one of the finest courses on the R&A's rotation of venues. If this year's Open is anything like Stenson and Mickelson's duel at Royal Troon then the spectators and watching world are in for another treat.