The fifth edition of the 3e Actuaries Open proved to be the biggest and best yet as a nail-biting conclusion in both the men's and ladies' side of the prestigious sub-Saharan Africa tournament saw Peter Karmis and Elin Arvidsson crowned champions of the US$250,000 showpiece in Mongomo, Equatorial Guinea.
Starting life in 2013, the 3e Actuaries Open has grown into one of the biggest stand-alone tournaments in world golf, with 60 men and 40 women from six continents completing this year's 'Road to Mongomo'. The USA's Charlie Wi, who earned close to US$10 million playing on the PGA Tour, made his debut at the 2016 event and 45 year old was back in action again this year. "I made so many great new friends last year and I love watching golf develop around the world," he said. "I've been around professional golf for over 20 years so I love watching these young players come up and just to be part of this event is exciting to me." https://www.youtube.com/watch?v=XgJBLdRxux4 The star-studded ladies field included three Olympians – Belgium's Chloe Leurquin and Austria's Christine Wolf, both Ladies European Tour players, as well as the LPGA's Maria Jose Uribe, who all competed in Rio in 2016. "It's grown beyond our wildest dreams," said Tournament Host and 3e Actuaries CEO Olawale Opayinka before the event. "If you look at the champions we have in the field – we've got two of the top ranked players on the Sunshine Tour – Jared Harvey, Peter Karmis – and the field contains wonderful talent from around the world.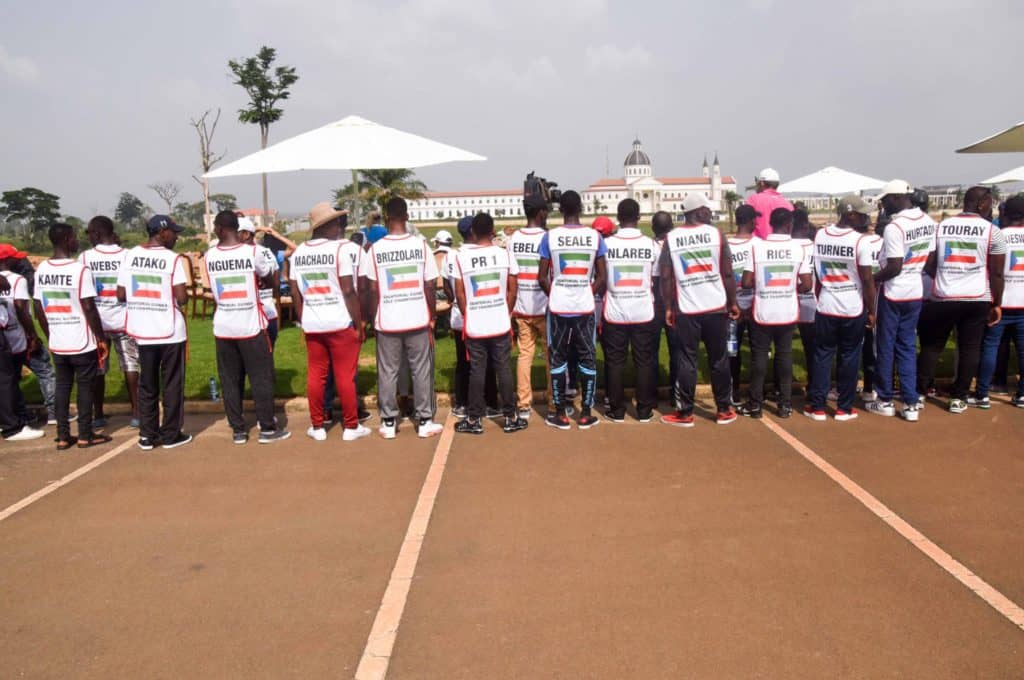 On the ladies side, we have Solheim Cup players, Ladies European Tour winners, players from the LPGA – it's incredible." This was Worldwide Golf's second trip to the little known African country and what an experience it was. Getting there from Dubai is not exactly what you'd call easy but then if you want to go off the beaten track to get a taste of somewhere totally different, it seldom is.
Journey
Ethiopian Airlines fly to Equatorial Guinea's capital Malabo, via Adis Ababa – a two-legged journey which is made infinitely more enjoyable and comfortable by using the premium 'Cloud 9' service. After an overnight stay in Malabo, which is actually on an island off the coast of the mainland, we took a chartered flight, along with the majority of the 100-strong field, to Mongomo. An epic journey it most certainly is and after clocking up so many air miles a comfortable environment for the week is what is needed and they don't come much better than the luxurious Grand Hotel Djbloho, situated right in the heart of the Equatorial Forest, around a 40-minute drive from Mongomo. As well as an onsite golf course, tennis courts, sumptuous spa and insanely comfortable beds, the players were treated to some additional unique entertainment in the form of two cheeky chimpanzees who were brought to the hotel each day by their keeper to play with the assembled guests. "The hotel and all the rooms are massive and magnificent and the food has been great all week," said joint ladies runner up Sophie Walker. "But the chimpanzees are definitely the highlight – they're so much fun!"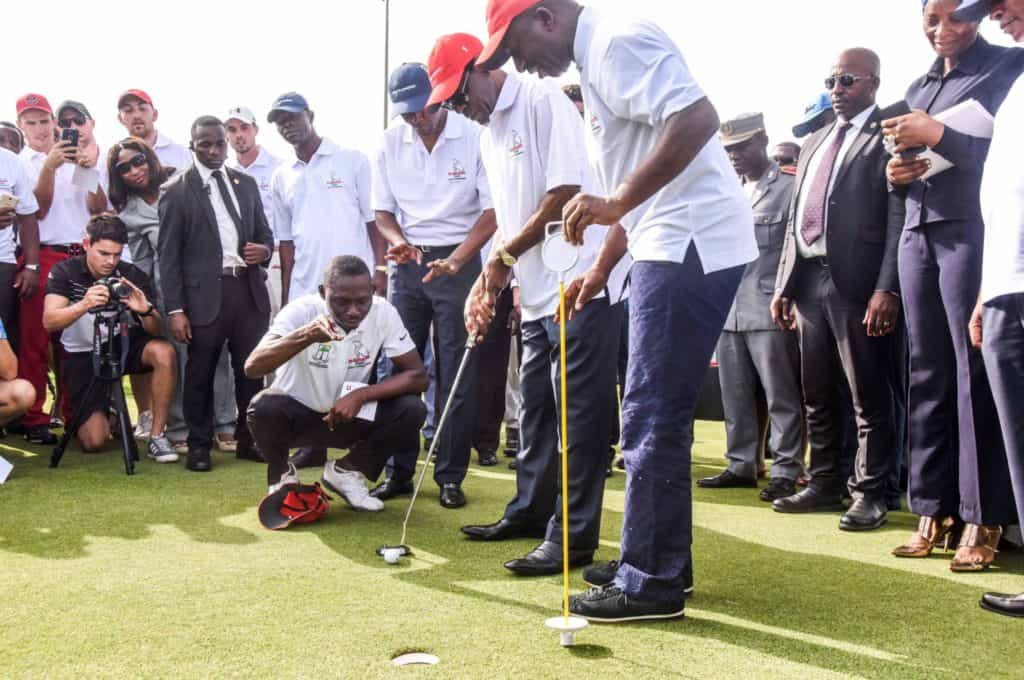 Presidential Opening
The 2017 3e Actuaries Open was given the most prestigious start when His Excellency President Teodoro Obiang Nguema Mbasogo declared the tournament officially open when he visited the spectacular Presidential Course ahead of the opening round. The opening ceremony, attended by a host of VIPs and dignitaries, featured a long drive show with five time ladies Long Drive World Champion Sandra Carlborg while the President himself delighted the crowd by sinking a putt on the practice green.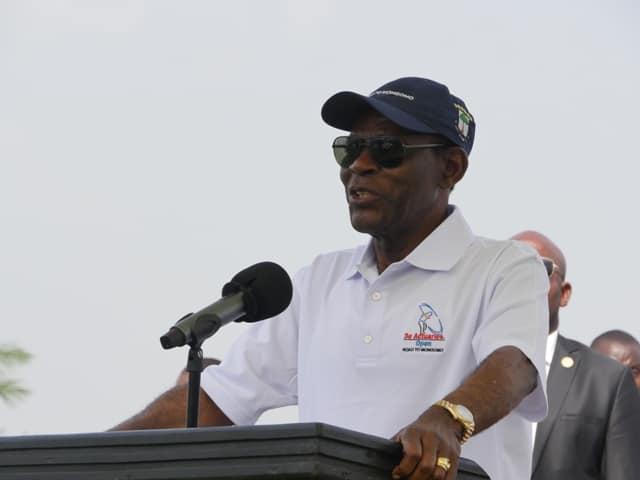 His Excellency said: "All the people in Mongomo and throughout Equatorial Guinea are following this event. It's great to see so many competitors and an increase from last year. Our goal is to invest in tourism and sport is an important part of tourism which helps us to continue to develop this country." With mixed groups of men and ladies over the first two days there was fun and banter aplenty but with a combined prize fund of US$250,000 on offer the players were all business when they stepped up to the tee and a memorable first day of action saw Zambia's Muthiya Madalitso and the USA's Jenny Lee draw first blood. Madalitso put together a classy round of 4-under 68 to edge one stroke in front of Zimbabwean pair Ryan Cairns and Ben Follet-Smith and England's Luke Joy, on a day of tough scoring as many players struggled with the tricky Mongomo layout's tight fairways. "I had a great of golf and hit some really nice shots out there," said Madalitso. "I liked the way the pairings worked – having a lady in my group was a lot of fun! "I drove the ball really well; my iron shots were really good and I converted the putts that I needed to convert so I was happy to come away 4-under par. I made a couple of bogeys late in the day but managed to birdie two of the last three so that was the real upside to my round." Cairns, making his second appearance in the event, was delighted to get off to a solid start in an event he described as "second to none."
"It's been a wonderful week of golf full of drama – good drama. Our aim for next year is to keep the field to around 100 players but to keep building the quality of players. This event is the biggest African event outside the European Tour and one day we hope that the players who do well here will receive invites to play in other big events around the world." – Olawale Opanyinka
"It was pretty hot out there but the course is in immaculate condition," he said. "I played last year and loved the course but this year we've all be completely blown away. "I played nicely, got off to a good start and was 3-under through five or six and then I just finished with around 12 or 13 pars in a row, but I played solid – hit it great and putted nicely so overall very happy. "This event is second to none, you can't compare it to any other tournament we play. It takes a little while to get here but it's all worth it in the end. Olawale Opayinka is just an unbelievable host. The hotel, the golf course, the food, the people – it's just perfect." On the ladies side, Lee, a good friend of Wi, only arrived in Mongomo late on the eve of the first round. But she showed no signs of tiredness as she rattled off six birdies on the way to an opening round of 3-under 69, despite having never played the course before. "It took four days to get here but it's been great," said the American. "I didn't have a practice round but Charlie updated me about the course on the way here this morning and it worked out great. "When I was on the range I looked at the first hole and thought 'man, this is a narrow golf course' but Charlie just said, 'you can hit fairways, you'll be fine.' I made a lot of birdies, just knocked it close and made the putts." England's Sophie Walker, who plays on the Ladies European Tour, also got off to a great start in her 3e Actuaries Open debut making birdies on holes four, eight, 12 and 17 to join Alejandria Laneza, Maria Jose Uribe and Arvidsson at 2-under 70.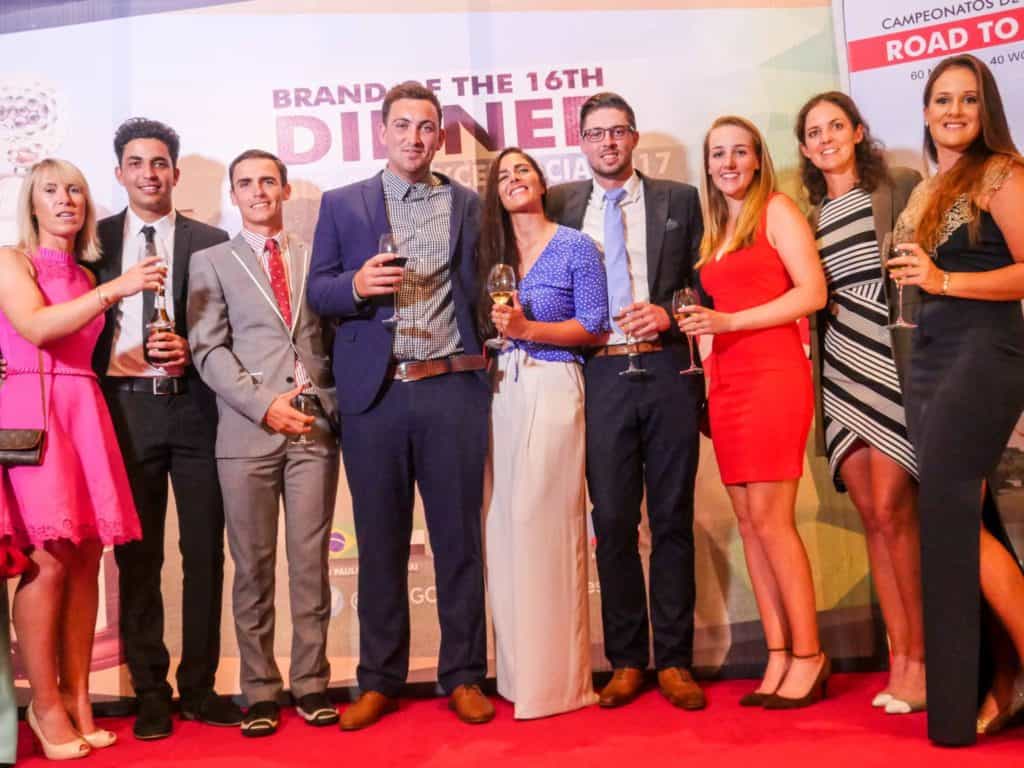 Day two heats up
On a hot and humid day two Ben Follett-Smith kept his cool, despite by his own admission not producing his best golf, to shoot 2-under 70 and move to the top of the leaderboard at 5-under while Leticia Ras-Anderica edged ahead in the ladies' contest with a 69 to move to 3-under for the tournament. "I shot 2-under today, I kind of struggled and didn't hit my best but managed to get it around the golf course," said Follett-Smith who only turned pro in September after graduating with a marketing degree from Mississippi State University. "That's what you've got to do, especially as a professional – I'm a new pro so I'm still learning the ways. But shooting 2-under when not playing my best is an improvement for me because usually my bad scores are more like 2-over or 1-over. Being able to play badly and shoot under par is what I'm aiming for." Hot on Follett-Smith's heals were English pair Kyson Lloyd (69), who qualified for the event at Worldwide Golf's DSA Architects sponsored qualifier at Emirates Golf Club in September, and Luke Joy (71) along with Spain's Xavier Puig Giner who had a great round of 68 all tied at 4-under, while Wi lurked a shot further back alongside Sunshine Tour pair Harvey and Karmis. The ladies contest was proving to be an equally fascinating spectacle with just three shots separating the top 12 players on the leaderboard. Ladies European Tour player Ras-Anderica, who was in Dubai for the Ladies Classic the week before the Mongomo event, carded a sensational six birdies, four of them on the bounce from holes six to nine, over the tough Presidential Golf Course layout to card a 3-under par round and take a slender advantage into the third round. But a group of five players were breathing down the leader's neck at 3-under with Leurquin (71), Lee (73), Christine Wolf (69), Kyle Roig (68) and Paula Hurtada (71 ) all very much in the mix while Britain's Jane Turner lay just one shot further back after a solid round of 71.
"I was just going through my process to be honest, just enjoying the day," said Ras-Anderica. "I came here with an open mind, I wasn't expecting such a good golf course here, it's impeccable and a great design. I didn't have a practice round so today felt a lot easier than yesterday. "I just tried to hit fairways, greens and hole some putts and it worked out."
Drama
The conclusion to the tournament provided drama by the bucket load. A torrential downpour of rain halted play with over half of Saturday's third round still remaining meaning the players had to leave the luxurious comfort of the Grand Djibloho Hotel at 5.45am on Sunday morning to play their remaining holes. Thick fog meant a further delay to proceedings and when the third round was finally completed a decision was made, after much debate and conjecture, to cut the tournament to 54 holes. With live on course scoring in use for the first time, it looked like a play-off was on the cards for both men and ladies – with Sunshine Tour pair Ben Follett-Smith and Karmis tied on 9-under and LET duo Walker and Leurquin tied at 2-under. But, with the girls already warming up for their play-off on the driving range, there was a dramatic twist in the tale when it was revealed that the second-round score of Sweden's Arvidsson had been incorrectly inputted into scoring system after Friday's second round and, with the scorecards re-checked, she was actually two shots better off than the leaderboard was showing. The US-based player, who plays on the LPGA development, Symetra Tour, was therefore crowned ladies champion at 3-under par 213.
"It's great, it's been such a good week," said the shocked but delighted Arvidsson. "It's been really fun to be here – I've never been here before and to come off the golf course not knowing if you've won and then standing in the clubhouse waiting to find out and finally realising you're the winner – it's an incredible feeling. "Yesterday I felt like I was hitting the ball pretty well and I was minus two when we finished for the day. Then we came back out today and it was hard because we had a fog delay and we were standing around waiting. But I just told myself that I was going to do the best I could."
US$30,000 WINNER'S CHEQUE
Still relatively new to professional golf, the 25-year-old Texas Tech University graduate, who received a US$30,000 winner's cheque, declared the event "by far the biggest thing I've ever won". "There are girls out here who play on the LPGA and high up on the LET and we've got girls who have played in the Solheim Cup," she said. "Playing on the LPGA and in the Soheim Cup are dreams of mine so being able to come here and play on the same golf course as them, under the same conditions as them, and come out on top, is great for my game."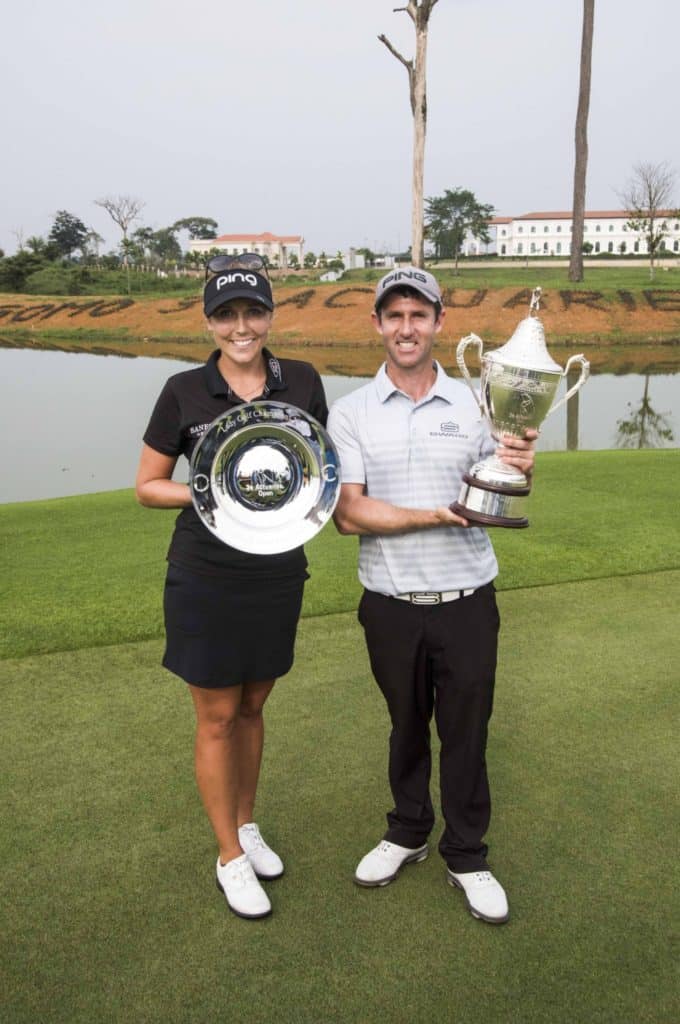 The crowds at the Presidential Golf Course were not to be denied their play-off and with the scorecard check revealing that the showdown between Karmis and Follett-Smith was still on, it was back to the ninth tee to play one of the most difficult holes on the course again. Both players found a good spot on the fairway with their tee shots and Karmis, a two-time winner on the Sunshine Tour this season, used all of his experience, taking the sensible route and laying up. But disaster struck for the younger Follett-Smith when he went for the green with his second shot, opting to try to carry the water with a fairway wood and watching in despair has his ball splashed into the hazard, leaving Karmis to two-putt for par to claim the US$30,000 men's first prize.
"I had a strategy for the hole," he said. "My strategy was to lay up and then hit a wedge shot close – that was basically my plan. What Ben did was really irrelevant for me but obviously it took the pressure off me when he knocked it in the water but I still had to two putt. He still had a chance to make par so I just had to stick to my game plan and do as well as I could. "It's an awesome prize, so I'm really pleased."
Follett-Smith said: "I had a good week and played very well. Obviously towards the end I let it slip. Today on 10 I hit a bad shot and then combined it with another bad shot and made double there which cost me.  A three putt on 17 cost me too. Peter had a good day today, he shot 6-under and caught up. I shot 4-under – I still played good and got it round like I needed to. I'm happy that I didn't give it away but obviously in the play-off I kind of did. I didn't hit the best second shot and hit it in the water. I made six from there so I kind of gave it to him in the play-off but other than that, I had a good week."
Congratulation on a Great Tournament #3eactuariesopen #roadtomongomo EGOpen2017. @3e_EGOpen @Westafricagolft @Feguigolf @WorldwideGolf @GuineaMarket @africanews @news_ghana @nj_ayuk @AfricaOilPower pic.twitter.com/FRXWFqxwTd

— Gabriel M. Obiang (@GabrielObiang) 21 December 2017
Charlie Wi and England's Luke Joy took third place in the men's event, two shots off the winning score at 7-under par while among the three Worldwide Golf qualifiers who made the trip to Mongomo, Kyson Lloyd finished top of the pile in a share of eighth place at  2-under par. "Mongomo is such a great place," said Lloyd. "The hospitality we've received has been second to none and the course is one of the best I've ever played. The layout is so demanding and visually stunning. It rewards good golf and punishes bad golf so it's a good tournament golf course." The 3e Actuaries, with the increasingly high-class field it is attracting, is already well on its way to achieving its aim of being known as sub-Saharan Africa's 'Major'. Tournament Host Olawale Opanyinka said: "It's been a wonderful week of golf full of drama – good drama. Our aim for next year is to keep the field to around 100 players but to keep building the quality of players. This event is the biggest African event outside the European Tour and one day we hope that the players who do well here will receive invites to play in other big events around the world." The Mongomo showpiece has grown at a phenomenal rate in just five years of existence. Watch this space for the next chapter in its captivating story.