Young, good looking, charming and talented. My first impressions of Adrian Otaegui, as we sit down for a chat in the idyllic surrounds of the terrace at Jumeirah Golf Estates' European Tour Performance Institute, is that this young Spaniard, who shot to prominence on the European Tour last season, has got the full package – and the golfing world at his feet.
The 25 year old made his breakthrough last season with victory in the Saltire Energy Paul Lawrie Match Play andhis swashbuckling style of play, along with an infectious upbeat personality and a winning smile, makes him a sponsor's dream. He's also said to be something of a hit with the ladies – which is why he's known on Tour as 'El Pirata' – 'The Pirate', because he always gets the girl! "Yes, that's what they say," he laughs, going the same shade of crimson as one of Long John Silver's bandanas. "A friend of mine, who caddies on Tour, started calling me 'The Pirate' a couple of years ago and it made its way onto the Tour very quickly! Mind you, I quite like the nickname."

Dubai based
Otaegui is the latest in a long line of Tour players to make Dubai his home, following in the footsteps of the likes of Thomas Bjørn, Henrik Stenson, David Howell, and joining close friends and fellow Spaniards Rafa Cabrera Bello and, until he departed recently, Alvaro Quiros.
"I think this is the perfect place in the world for European Tour players to come and practice in the winter with all the unbelievable courses that Dubai has to offer, which are always in perfect condition," he says. "The sun is out just about every day with a near perfect temperature in the winter and it's obviously got such great connections from Dubai airport which is great for us when we have to travel to South Africa and Asia.
"It's all good for us golfers to be here– Rafa's here and Alvaro was here until recently and a few of the other guys, so we can go and do things during the day and go out at night together. "It really feels like home here. I usually practice at the ETPI when I'm in Dubai and I really like the courses in the UAE, particularly the Earth course and the Fire course."
Olazábal mentor
Hailing from the Basque city of San Sebastien on Spain's northern coast, Otaegui was lucky enough to be mentored by another famous Spaniard from the region – none other than two- time Masters champion and Ryder Cup legend, José Maria Olazábal.
"I met him when I was four years old and it's actually a pretty funny story because I was sitting at school when the owner of the driving range I used to practice at called my dad up and told him José Maria Olazábal was there hitting balls on the range," he recalls.
"So my dad came and collected me from school and took me to the driving range. I watched him hit some balls and watched him practice then hit some balls and he gave me a few tips. "He used to organise a Pro-Am every Christmas in San Sebastian and every year I would go and watch him and the other pros play. That's how it started. I was very lucky when I was fourteen and fifteen, to play with him and the other professionals. Obviously, at that age all I could do was learn from him, so I feel very lucky to have been able to do that."
A glittering amateur career saw Otaegui amass 11 titles, including the 2010 British Boys Amateur Championship, something his mentor also achieved in 1983, before he turned professional in 2011 and began honing his craft playing a mixture of European Tour and Challenge Tour events. He believes his time on Europe's second-tier Tour provided the perfect preparation for the next stage of his career on the European Tour.
Al Badia memories
"I played a full season on the Challenge Tour in 2013 and played all year pretty much all over the world. The biggest event that year was in Kazakhstan and the final was here in Dubai at Al Badia Golf Club in Festival City which I really enjoyed. It's a great shame that the golf club is not there anymore," he says. "I think the Challenge Tour provides great preparation for the European Tour with the top 15 players from the rankings promoted to the European Tour for the following season. They certainly deserve their success because they have played great golf all year all around the world. The courses on the European Tour are a bit more difficult and you have to adapt to that change but it's a great stepping stone to the European Tour."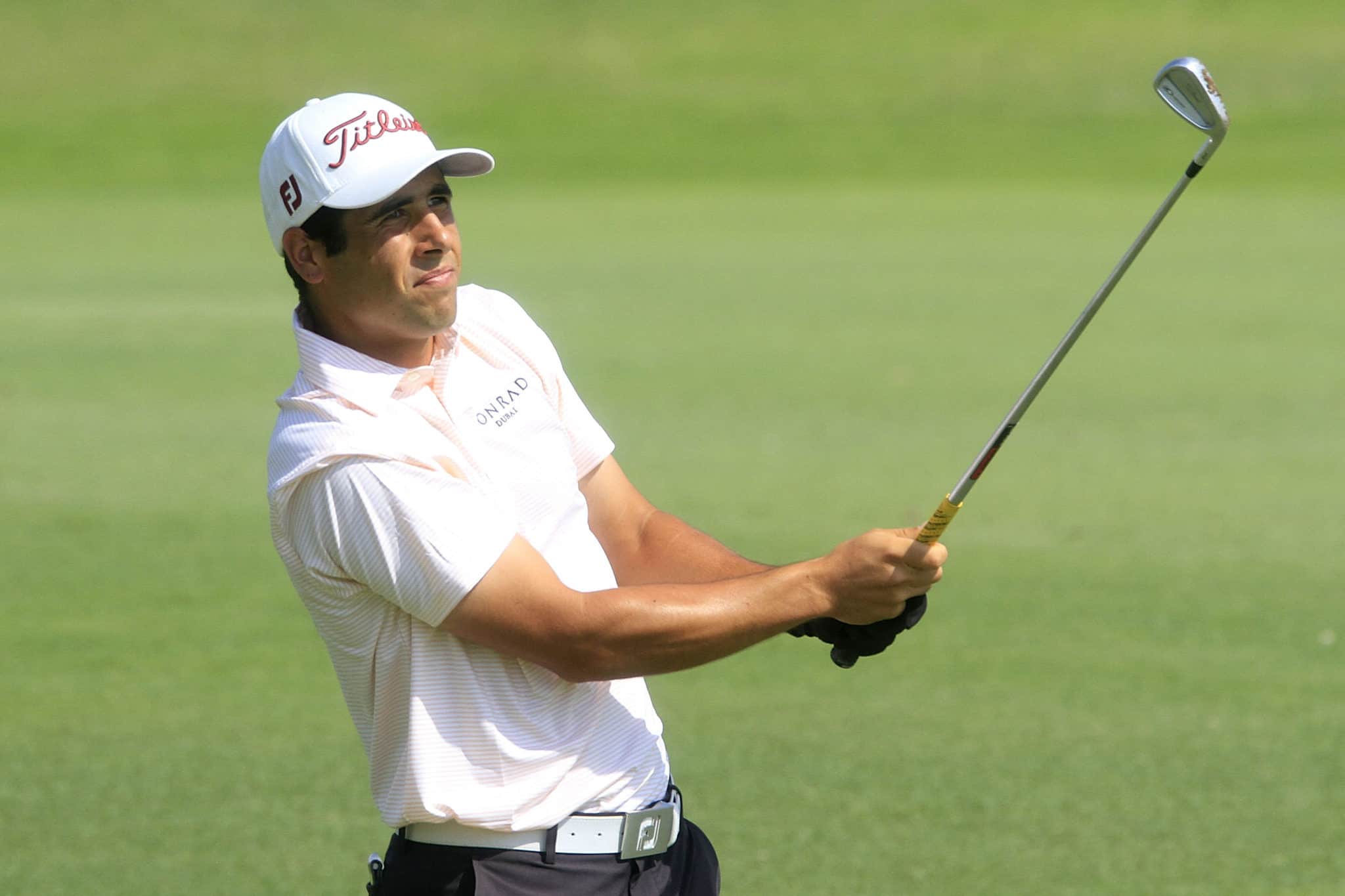 Keeping his card
After graduating to the European Tour as one of the top 15 on the 2013 Challenge Tour Rankings, Otaegui spent
the next couple of seasons finding his feet, returning to Q-School twice in order to retain his playing priveleges. In 2016 he finished comfortably within the Race to Dubai Rankings cut line of 110, in 69th place, to keep his card which gave him the foundation to kick on last season.
After a slow start, and some swing changes with his coach aimed at gaining more consistency off the tee, led to a big improvement over the summer and it all came together with a tied seventh place finish at the Rolex Series' HNA Open de France at Le Golf National in Paris, the venue for this year's Ryder Cup.
A few weeks later Otaegui added a top five finish at the Porsche European Open in Hamburg before claiming his first title in his next outing, beating home favourite Marcel Siem 2&1 in the final of the Saltire Energy Paul Lawrie Match Play at Bad Griesbach Golf Resort in Germany. "I started playing okay at the first event in South Africa but I was still struggling to make the weekends," said Otaegui, who missed six cuts in a row prior to his uplift in form over the summer period.

In Control
"I started to feel better on the course around May and I was pleased with my performance at the French Open. I was leading after two days and had a good weekend. I didn't do enough for the win but still managed to finish seventh. That was the first time I really enjoyed myself on the course. I felt I was in control of what I was doing.
"After that, I had a very good summer in the Rolex Series events – the Irish and Scottish Opens – finishing in the top 20 in both and then winning the Match Play at the end of August was a very special moment." Having now played Tour golf for the past seven seasons, Otaegui is used to the constant travelling and long hours spent in hotel rooms during tournament weeks. Boredom is something that all players have to combat and the charismatic Spaniard has found a novel way of keeping himself occupied while on his travels.
"I've always loved music and singing. Unfortunately, I don't play an instrument even though I would love to," he says. "As you know, we have some time to kill when we aren't playing golf so I always have a piece of paper with me and I like writing lyrics.
"A couple of years ago I was here In Dubai with a friend who is a musician. We were having breakfast together and
he told me he'd just got a new studio. He suggested we make a CD. So we went in the studio and recorded some songs over two days. That's how it started. I still love singing but I'm just focusing on my golf at the moment."
You can find the results of his recording debut on YouTube. He's got a decent voice and with his pop star good looks and a confident demeanour to boot, you wouldn't put it past him becoming a hit in the music world. But for now, El Pirata looks set to plunder more titles on the European Tour, not to mention turning the heads of his legion of female admirers.