Following on from last month's review of Cobra's King F7 One Length Irons we talk to the man who inspired their creation – America's intriguing PGA Tour star Bryson DeChambeau.
The 23 year old first hit the headlines here in the Middle East when, still an amateur, he outdid his esteemed professional colleagues to take the early lead in the 2016 Abu Dhabi HSBC Golf Championship with a stunning 8-under 64 before finishing tied 54th. He went on to beat another stellar field at Yas Links two weeks later by shooting 65 in the Abu Dhabi Invitational but was ineligible for the AED 92,000 first prize due to his amateur status and by the time he arrived at the OMEGA Dubai Desert Classic, where he notched a top 20 finish, the media spotlight was well and truly on him.
It wasn't just the precocious talent of the then reigning US Amateur Champion that had everyone talking. His preference for an on-course look which harked back to days gone by with a Ben Hogan style flatcap was certainly catching the eye. The fact that he was a college physics major was also gaining a fair few column inches and contributed to him gaining the moniker 'The Golf Scientist'. But it wasn't only his curricular specialism which led to the nickname, it was his scientific approach to the game, which included using one length irons for greater consitency and it was this, more than anything else, which had us all fascinated.
DeChambeau went to finish tied 21st as low amateur in his Masters Tournament and turned pro the following week. He was snapped up by Cobra Puma Golf who immediately went to work creating their King F7 One Length Irons.
Worldwide Golf: What was the inspiration for playing one-length irons?
Bryson DeChambeau: I discovered the single length irons in 2011. I worked with my Coach, Mike Schy, to build and spec out my first set. We went out and tested them and were amazed at how I hit the ball. I looked at him and said, this could be a game changer. I still believe that. Using single length irons allows me to have the same swing no matter the situation. That decreases the variables, allowing me to hit the ball more consistently. The benefit is greater shot consistency, better performance and more on-centre hit consistency.
Bryson DeChambeau's #TheOpen debut was rough, but after last week's win, we all know what he is capable of. He'll be back. pic.twitter.com/FjpWQjAg24

— B. DeChambeau Fans (@GolfJunkie2121) July 21, 2017
WWG: How long did it take you to find the proper specs that work for you?
BD: I worked with Ben Schomin, Cobra's Tour Manager for a few months to find the perfect fit for my game. The team at Cobra has been instrumental in getting me dialed in to the right specs with my King Forged Tour irons.
WWG: What kind of input did you have with the design of Cobra's ONE irons?
BD: I worked with Ben and Cobra's research and development team on a few prototypes, to determine the best size and specs for my game. I've spent a lot of time in Cobra's headquarters in Carlsbad, working with the engineers, testing products on the range, learning from them and providing feedback. I truly believe the single-length approach can help make the game easier and more enjoyable, not just for me, but for golfers of all levels. I'm extremely proud to have worked with Cobra to bring two really great one length sets to golfers around the world.
WWG: Cobra has said the ONE irons perform particularly well with the short irons. Where have you found they help your game most?
BD: The key benefit for me is consistency and predictability. Dialed in distance. Less variables, allowing me to hit the ball more consistently. That gives me a lot more confidence. One swing means you're going to hit more greens more often – who doesn't want that?
WWG: How did you finally determine the most comfortable length (37.5 inches) for the irons?
BD: We tested a few different lengths and it just seemed to be the best length for me.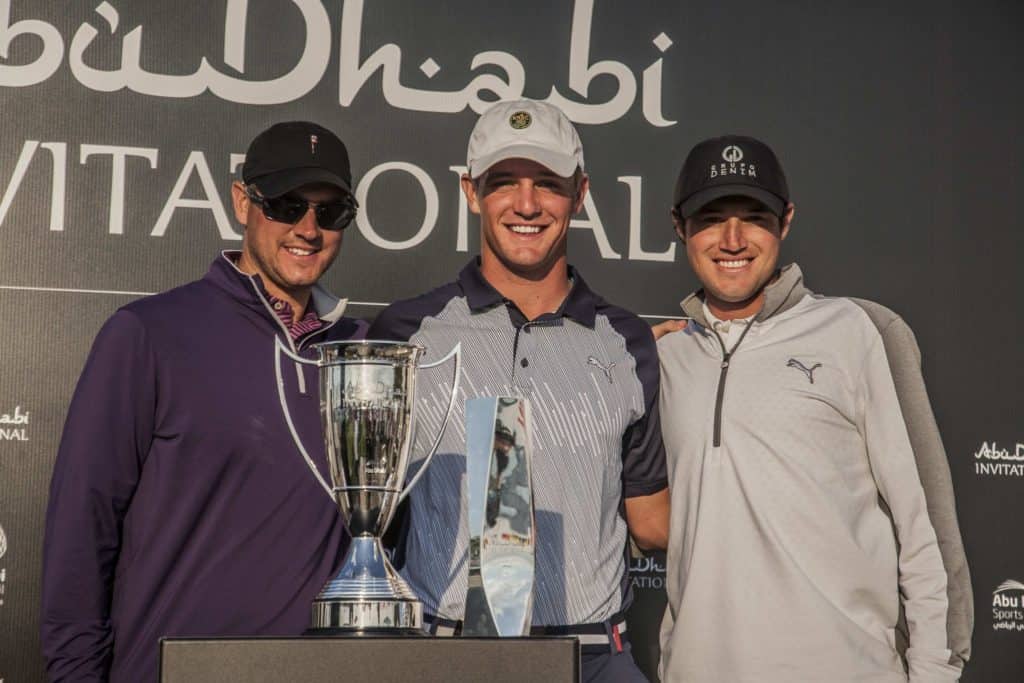 WWG: You have been chosen a particular look that reminds to great players like Ben Hogan and Payne Stewart. Why did you started playing with flat cap and did you have any special reason?
BD: I like my style to be a little different. I started wearing the hat when I was about 13 after I saw one at a junior event. The first time I saw it, I asked my dad to buy it for me. I loved the unique look and that Ben Hogan and Payne Stewart used to wear it. Then I went out and won the tournament in it. I have worn one ever since.
WWG: Which was your best moment lived on a golf course up to now?
BD: I've had a few really great moments. Winning the U.S. Amateur, the NCAA Championship and playing in my first Masters with my family present was really something special..
WWG: Who is Bryson DeChambeau away from the golf course? Do you have any kind of passions/hobbies?
BD: I have started to fish recently and I enjoy it. I just love working on my game and continuing to improve each and every day.
WWG: Did you have anyone who inspired you in the game of golf and who is in your opinion the best player at the moment and why? 
BD: My dad put me in the basket of a golf cart when I was two years hold. I have been hooked ever since! There is no question that my idols are Ben Hogan and Bobby Jones. They were such gentleman of the game.