The new RTX-3 wedges from Cleveland are causing a stir but why? The main selling point is the club's 'Feel Balancing Technology' which basically shifts the centre of gravity closer to the middle of the face, or the 'impact zone' which decreases vibration and maximises the club head's stability during contact. But what exactly does that achieve we hear you ask? In a nutshell, it improves feel and control and tightens shot dispersion, or in other words – whether you hit one off the centre of the face or not, the ball is more likely to land where you intended it to!
V SOLE GRINDS

There are also three grind options which feature a V shape with more leading edge bounce to help get the club head through the turf faster at impact. The idea of this is to promote a crisper feel and more consistent head speed for increased spin and control. The V-LG is the narrowest low bounce sole suitable better players who want more control over shot shaping, the V-MG has mid bounce which will suit a wide range of players and turf conditions, and the V-FG is a forgiving full sole design with trailing edge relief for higher handicappers.
NEW ROTEX FACE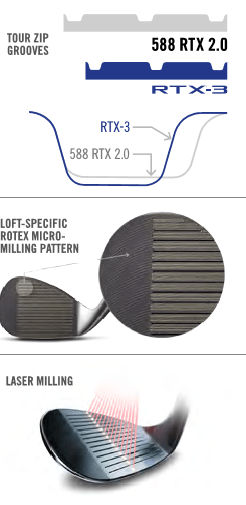 The final piece in the jigsaw is a new 'Rotex Face' which combines three innovations to maximize spin with more consistency.
New Tour Zip Grooves featuring a deeper, narrower U shape with a sharp edge radius improve contact, lower the chances of hitting a flier from the rough with a lower-lofted wedge and maximise spin control and consistency from deeper greenside lies with higher-lofted wedges. A new Loft Specific Rotex Micro-milling Pattern increases friction and is directionally enhanced by loft: low lofts (46°-52°) have a circular pattern oriented straighter toward the leading edge to accommodate full shot performance. High lofts (54°- 64°) feature a pattern angled toward the toe to match swing path on open-face shots for optimal greenside performance. Optimal Laser Milling between the grooves adds friction and increased spin on greenside shots.